Career Fairs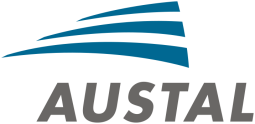 Austal is coming to town for a Meet & Greet Information Session!
Tuesday, February 17, 2015
Pensacola State College – Pensacola Campus
1000 College Blvd. | Pensacola, FL 32504
*Directions to building location will be provided in your registration confirmation.
Attendees will learn more about job opportunities, the employment application process, Austal's Apprenticeship Program, and more! Anyone interested in working for Austal should attend this event. Pre-registration IS REQUIRED. Sessions begin promptly at 10 a.m. and 1 p.m. No late entries!
Meet & Greet Sessions will be held at:
10 a.m. to 12 p.m. (sign-in begins at 9:45 a.m.)
1 p.m. to 3 p.m. (sign-in begins at 12:45 p.m.)
Click on the link below to register for one of the Information Sessions listed above.

LOCAL CONTACT:
Morgan Cole, Outreach Representative
Phone: (850) 607-8752
Email: mcole@careersourceescarosa.com